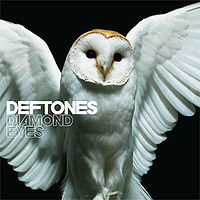 I have been a fan of Deftones for over ten years now. I was introduced to them by My Own Summer (Shove It), Back To School (Mini Maggit) & Change (In The House Of Flies) being played on the radio, but the day I decided to buy White Pony was the day after I saw them open for Godsmack in 2001 (my first concert no less).
The band, Chino in particular, has since then had a major influence in my musical outputs. Each of their albums was filled with beauty, aggression, enigmatic imagery, and each album showed a musical progression. Diamond Eyes is no different. The album is definitely a treat for fans of the "old school" Deftones as tracks like the lead single Rocket Skates & the brutal CMMD/CTRL serve you an ass kicking with vintage Around The Fur flavor. Other tracks like Prince & Sextape sound at home in the White Pony era. The album as a whole kicks it like they used while mixing it up with styles from every era all while managing to stay fresh.
Now there is a downside. Diamond Eyes is great album but it's not the album we were going to have at first. The band was working on Eros,an album that Chino stated was closer to White Pony, when tragedy struck. As many know Chi Cheng was in an automobile accident in November of 2008 leaving him comatose for months, and he is now in a semi-conscious state. Opting to not give up, the band stepped up to the plate & recruited Sergio Vega (who has filled in for Chi before) and put Eros on indefinite hold. The result is an amazing sonic assault that was birthed out of a tragic situation.
I will be seeing Deftones live in August so expect a concert review then. Also please check out the website www.oneloveforchi.com for updates on Chi's progress, and should you want to donate to help out the Cheng's with medical expenses, World of Meh! is currently having a charity fundraiser to help them out, along with chances to win fantastic prizes. For all the details, check out this article here.