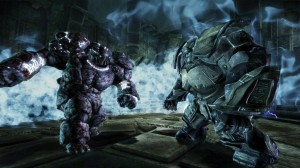 Not even 30 seconds ago, BioWare announced the details for the upcoming Dragon Age: Origins DLC, Golems of Amgarrak. While at San Diego Comic-Con, BioWare did confirm a new DLC would be coming out, but, at the time, that was all fans were given.
Coming out on August 10th for Xbox 360, PS3, and PC (sorry Mac users), players will use their Warden to delve into the underground. At Comic-Con, it was said that the new DLC would take place in a dungeon, and while it doesn't explicitly state that in the official press release, I guess we will just have to wait and see. The plot is that a dwarven expedition crew that was searching for secrets regarding the creation of Golems has gone missing. You and your team are tasked with finding out what happened to them.
You'll explore all new environments, come across some new characters, and even fight never before seen creatures. Gamers will have the option of importing either their Origins character, or the one they used in the Awakening expansion. Regardless of your choice, you will have the opportunity throughout the DLC to level-up and strengthen him or her. We're told we will get to face an "all-new, terrifying creature," all rewards earned will transfer to our Origins or Awakening character, and that Golems of Amgarrak will be challenging for even the most experienced of players.
The price isn't stated yet, and while most DLC's in the past have ran 400 Microsoft Points (with the exception of Leliana's Song which was 560) fans of the Dragon Age universe are likely to get it, no matter what.