And the good news just keeps on coming! Today BioWare announced the next DLC installment for the popular game Dragon Age: Origins. Last month fans were able to play as a Hurlock Vanguard in Darkspawn Chronicles, and now we get to take a peek into Leliana's past.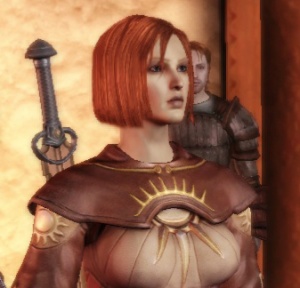 If you've played Dragon Age: Origins, you will know that Leliana used to be quite the naughty girl, and worked for a woman named Marjolaine. In Leliana's Song, you will accompany Marjolaine on a high-risk mission, as Leliana of course, but things spiral out of control and you are left with this decision: kill or be killed. Here are more details from the official press release:
Explore Leliana's dangerous past and why she joined the Chantry
Fully voiced cinematic experience brings the characters to life
Unlock a unique reward that transfers into your Awakening and Origins campaign
Available on July 6th for Xbox 360, PC, and PS3 there has been no official price announced yet. I assume it will be the standard 400 Microsoft Points and whatever the equivalent will be for PC and PS3. I can only hope that this DLC is better than Return to Ostagar and Darkspawn Chronicles.
- Me