(Disclaimer: In the post you are about to read, the images used are NOT our feet. I used them so that there wasn't just a wall of text. The only true image, which is of my painted toes, is the one on the main page for the scroll bar header. I'd rather cut off my feet than have some of the toes below….)
Over the past couple of days, I have suffered through not one, but two injuries to the big toe on my right foot. How did these happen? Oh well, let me tell you dear readers….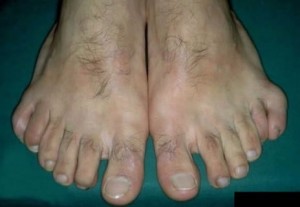 Late last week I was playing with Moogle in the front room. I believe Chris was playing some Red Dead Redemption, so I figured I would play with Moogs to pass the time. One of her favorite toys is this black plastic stick that allows you to attach various odds and ends. Her favorite attachment is this collection of multi-colored metallic streamers. It's fun to move it around, have her chase it, and leap in the air. She can get really high sometimes if you get it just right.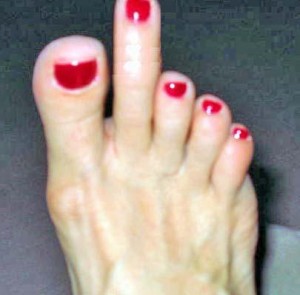 Everything seemed to be going great until Moogle, with her front and back paws out, landed and slid right on top of my right foot. It hurt like hell because her nails got me right in the sweet spots. I had a slice on the top of my foot, right before my toes begin, you know… where the skin is really soft and delicate? I also had a nifty slice in the big toe knuckle crease (ouch) and then to top it all off, a nail slid right across my cuticle. Needless to say, playtime was over.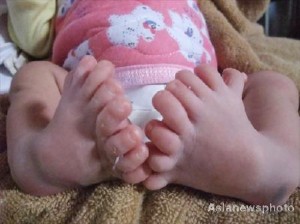 My second injury happened Sunday night. Earlier that day I had thought about trimming my toe nails, because they were slightly longer than I like them to be (I hate seeing the white tip nails get, at least on my toes) but because we were busy doing other things, I figured I would do it on Monday, along with a proper pedicure. Oh how I wish I listened to myself.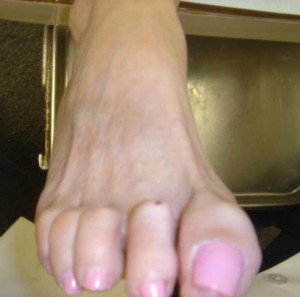 When we were getting ready to go to bed, Chris picked up Moogle and was holding her by the hallway. I went over to give her some loves and smoochies, since she was about to go to her room, but Chris stepped forward, and in doing so, his toenail went under mine, and POP - it snapped. It hurt, it hurt, it hurt…. and about 1/4 of my nail, starting from the tip, was ripped off almost all the way across. Fortunately it didn't go all the way down to the skin. Unfortunately it caused the nail on the side to come out of my skin rather quickly so I was bleeding there. Right then, I cut all of my toenails, and I noticed that on the side where I was bleeding, you could see where my nail had lifted a little bit more, about halfway up the entire nail - it had that white, cloudy look to it. So, after I cleaned it with some antibacterial soap and water, I bandaged it up. The following day was alright except that it throbbed a couple of times.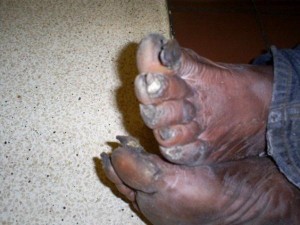 Oddly enough, Chris was the recipient of a toe boo-boo as well. Last night, he was playing with Moogle using the same toy I was last week. He was doing the same exact thing, and guess what happened? Claws-out Moogs got his toes! Instead of it being his right foot, it was his left, but man she got him good. There was this large bead of blood coming out from the knuckle crease on his big toe, and she even got the toe right next to it. I guess it was a good thing we bought some band-aids earlier in the evening.
- Me