Unless you've been living under a rock, or have no interest in comic book movies, you're well aware that there is a Thor movie in the works. Details have been scarce, and so have images…until today.
Slated for a summer 2011 release, Marvel Studios confirmed today that, like the upcoming Captain America movie, Thor will be released in 3D (ugh). Personally, I'm sick of 3D, so that tidbit of news was a major turn off, but fortunately there was more.
Sir Anthony Hopkins, Mr. Hannibal Lecter himself, is playing the role as Odin. If you're unfamiliar with Norse mythology, Odin is the equivalent of Zeus, making him the chief god. So far, the only image released has been of Thor, portrayed by Chris Hemsworth. Fans of the Thor comic series, and those eagerly anticipating the movie, were given a second image today that featured Odin: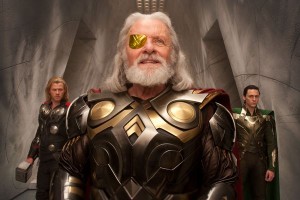 What. The. HELL! I don't know about you guys, but I'm not excited by this. The armor is too much, and honestly, a simple breastplate would have done. Simple, not complicated. What we have here has a strange mech look to it, and reminds of me clock gears. Also, what is up with that eye patch? Yeah, Odin has one eye, OK. But a shiny, bright gold eye patch/monocle? C'mon people…how difficult would it have been to replicate this Odin: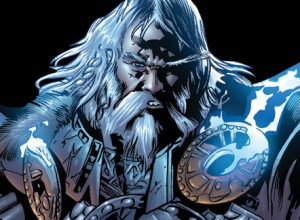 Also, if you notice, we get our first look at Loki, portrayed by Tom Hiddleson, so that was nice. I'm assuming, that since everybody is together, and Thor and Loki aren't going for each other, that maybe this shot is taken from the beginning of the movie. If I'm correct, then maybe where they are is Asgard? I always imagined Asgard would look more Nordic, with a lot of wood, tables everywhere, things hanging from the walls, and have this badassViking feel to it. From what I am able to see, which honestly isn't much, it has this cold feel about it and appears to be concrete.
Anyways, Hopkins is a phenomenal actor, so I'm not worried about that at all. I guess I've been disappointed by so many comic book movies (X-Men series, Fantastic Four, etc), other than Iron Man and Watchmen. Hopefully the movie is solid, we don't get dicked over like Edward Norton did, and we better get winged helmets!
- Me