Yesterday I got an email from Subway informing me that they had come out with a new sandwich called Orchard Chicken Salad. I love chicken salad sandwiches. I love them so much that I had chicken salad sandwiches at the baby shower for my daughter several years ago, and they were delicious. Now, I was skeptical about Subway's interpretation of a good chicken salad because Panera Bread already has one, and it's fucking delicious!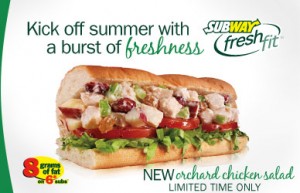 The Napa Almond Chicken Salad sandwich at Panera is outstanding. It's on this amazing sesame semolina bread, and it's simple. There is the chicken salad mixture, some green leaf lettuce, and they normally put tomatoes on but I always ask for them off. Either way, for almost a year now, whenever I go to a Panera Bread, that is a sandwich I have to get. Last night Chris and I went to do a couple of errands (we desperately needed some weed killer FYI) so we went to the Target north of town at the River Park shopping center. After that I had to make a decision. Either go with something I already knew was outstanding, or try the new Subway sandwich and make it a true gamble. Since I had a $15.00 coupon for Borders, and Borders is right around the corner from Subway (whereas the Panera Bread location would warrant moving parking spaces), I decided on Subway.
I ordered their Orchard Chicken Salad sandwich as a footlong, since it's one of their special $5.00 ones, and I had it on 9 grain wheat bread. Already the Subway version was inferior to Panera because they lacked the delish sesame semolina bread. Anyways, the guy behind the counter looked puzzled as I requested only the chicken salad and lettuce to be on the sandwich. That's the way that I get it from Panera, so that is how I was going to have it at Subway. I didn't think that black olives, cucumbers, oil, salt, pepper, and pickles would be appropriate for my sandwich.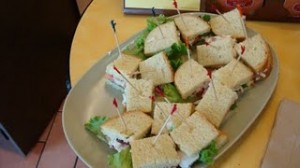 Some of the main differences are ingredients. The Napa Almond Chicken Salad mixture has red grapes, celery, chicken, almonds, and their special dressing, which is actually a light olive oil base compared to the standard mayo. The Orchard Chicken Salad mixture has cranberries, golden raisins, diced red apples, celery, diced chicken, and the mayo dressing. While the golden raisins were nice, I really missed the grapes. To me, it made a big difference. Also, I found the apples in the Orchard Chicken Salad sandwich to be really blah, like they lacked the proper flavor, and had almost a softened water chestnut texture. Not appealing.
As I opened the wrapping to my sandwich, I noticed that there wasn't a lot between the bread, which was sad because the bread to filling ratio at Panera is wonderful. When I got a few bites in, I knew right then that the Subway sandwich came nowhere close to the deliciousness I wanted. The chicken salad was a little bland. It lacked the proper salty and sweet. The lettuce was iceberg and shredded, giving no flavor and a strange texture, and the bread just didn't fit. Next time I go to Subway, I will just stick to what I normally get - a turkey sandwich. There are just certain things a company shouldn't try, and for Subway, it's attempting to create a chicken salad. Just say no. You'll thank me later.
And the winner (as if you should even have to ask) is: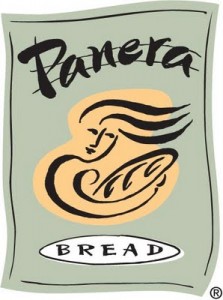 - Me