WWDC has just ended, and the announcements have been truly exciting.  Everyone knew the new iPhone would be announced and displayed today, and because of the recent leaks, most people knew what to expect.  That didn't make it any less enjoyable.  Before we get into the iPhone announcement, however, let's go over some of the lead-in announcements that deserve to be spotlighted.
First off, Netflix is coming to the iPhone!
Not only is Netflix coming to the iPhone, but it comes with the ability to continue streaming from one device to another.  For example, if you're watching The Matrix: Reloaded (I'm not one to judge) on your iPad, and your battery dies, you can resume streaming on your iPhone from where you left off!
There were no specific mentions of whether the streaming applied to other Netflix streaming devices, such as the Xbox 360.
Another fantastic (for some) announcement was from Zynga, creators of Farmville (and other Facebook games).  They are releasing a game called "Farming," which syncs to your Farmville game and allows you to farm on the go.
"Withering crop push notifications" are included.
Activision came on and demoed their new Guitar Hero for the iPhone.  It sports a new user interface to make playing on the small device more entertaining and accurate with the introduction of a new strumming and tapping mechanism.
And now we get to the real reason any of us care about today's event: the iPhone.  If you've followed the leaked images and specifications, you know what's coming:
According to Steve, the new iPhone is 9.3mm thick, which brings it in at 24% thinner than the iPhone 3GS, and according to him, makes it the "thinnest smartphone on the planet."   Additionally, it sports a glass back, a front facing camera, an improved back camera with LED flash, and more!
Many people have cited the strange breaks around the border of the phone as proof that it could not be the final design, as it seemed unfinished.  However, it turns out that the band wrapping around the phone is intentional, as it serves as part of the antenna system, something Steve claims "has never been done before."
Now for the display, which he is calling the "Retina Display."  The Retina Display provides a resolution of 326 pixels per inch.  The human retina, according to Steve's slide, can only see up to 300 pixels per inch.  This creates a screen image that is better than we could ever hope to truly see.
The iPhone display comes in at 3.5″, 960×640 pixels, 326 pixels per inch, an 800:1 contrast ratio, and increased viewing angle and color via IPS, which Steve claims is "Quite a bit better than OLED."
Next, we see the guts of the iPhone, powered by the A4 processor!
Because of the increased battery size and reduced power consumption of the A4 processor, battery life estimates have been extended.  The new iPhone will provide 7 hours of 3G talk, 6 hours of 3G browsing, 10 hours of WiFi browsing, 10 hours of video, 40 hours of music, and 300 hours of standby.
Basic specs reveal that the iPhone 4 will have up to 32GB of storage, quad-band HSDPA, dual mic noise supression, 802.11n WiFi, and more.
A new hardware element being introduced is a 3-axis gyroscope which is tied into the accelerometer and compass for six axis, which he claims is "perfect for gaming."
Next up is the improved back camera.  The MP has been increased from 3 to 5, but it is joined now with a backside illuminated sensor to improve low light photography.  The camera upgrades include a 5x digital zoom, tap to focus, and the LED flash.
A long-awaited announcement is the ability to record HD video, at 720p at 30fps!  The LED flash can stay on for recording, and "one click sharing" is included as well!  "You can record, edit, and then with a few taps, email it right on the phone."
For video editing, iMovie for the iPhone has been announced, providing a great deal of editing options and flexibility.
Next up is iPhone OS 4, "The most advanced mobile operating system in the world."  Don't get too comfortable with "iPhone OS 4," though, because it's being renamed to "iOS 4."  With iOS 4 we are treated to a brief summary of the new software features, such as multitasking, unified inbox, and folders.
Next, some more detail about enterprise functionality.
For search options, this has been predicted, but still comes as a shock: Microsoft's Bing will be included as a search provider, alongside Yahoo! and Google.
iBooks has been brought to the iPhone now, with wireless downloading of books to the iPhone, iPad, and iPod.  A single purchase can be automatically downloaded to all three devices at once.  iBooks automatically syncs your place in any book, including all bookmarks and all notes.
Joining iTunes and the App Store is the iBookstore for purchase and downloading of iBooks.
iAds makes its debut with a demo page and details.  If I were a developer, this is something I'd be very happy and excited about.
With his trademark "One more thing…" tease, Steve presents us with video calling using the front-facing camera!
The feature is called "FaceTime."  It will only work between two iPhone 4′s, and it will only work over WiFi due to carrier limitations.  No setup is required, it comes native and ready to go in both portrait and landscape modes.  The video being sent can also be flipped to the rear camera, so they can see what you see!
One of the video advertisements being run shows two individuals speaking over iPhone 4 Facetime using sign language, which is really a fantastic thing.
Summarizing FaceTime:
And now, pricing!  There will be four flavors released: Black 16GB, White 16GB, Black 32GB, and White 32GB.  The 16GB runs for $199 and the 32GB runs for $299 (both prices are with contracts, I assume).  Also, AT&T has agreed to allow all customers with upgrade eligibility coming up some time in 2010 to be immediately eligible for the upgrade pricing for iPhone 4!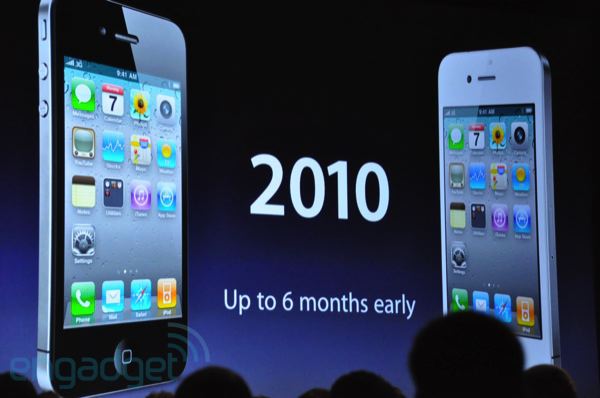 When does all of this become available to you, the consumer?  Preorders start June 15th for availability June 24th.  It's so close I can taste it!  It tastes good.
iOS4 will be a free upgrade for all devices, INCLUDING the iPod Touch!  Previously, iPod Touch owners had to pay for the upgrade, but this has been dropped.  The iOS4 update will be available June 21st, for iPhone 3G (only certain features will be supported), iPhone 3GS, and iPod Touch (excluding first generation).
I need two of the Black 32GB iPhone 4′s.  I am willing to go out of my comfort zone for a pair of these devices.
Please.
-[insert I'LL DO ANYTHING (ANYTHING) FOR THIS NEW IPHONE! here]