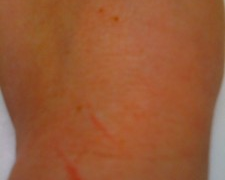 If you read the blog that was posted a few days ago, you would know that we have recently added to our family with our new kitten, Moogle.
She is a very cute cat. Very playful, she "speaks" to us when we wake up in the mornings and when we come home after being out, and she purrs so loud!
One huge side effect is that Moogle came equipped with dagger claws of DOOM! I am not exaggerating either folks. I speak the truth.
For the past 48 hours she has been kicking my ass and little by little, my body starts to resemble bloody swiss cheese.
Proof? You want proof? Here you go…
Needless to say I am in a lot of pain right now because a majority of those just happened within the past 30 minutes. She wanted to climb on up and decided to use my pants as her way up. I am wearing PJ pants and they are very thin. Her claws went right through the pants and into my poor, delicate skin.
Ouch… and ouch.
- She Who Has The Last Word