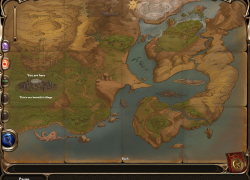 Today, I spent a good portion of my time playing, and completing, Dream Chronicles: The Book of Air by PlayFirst. Well before the game was released, I knew I wanted to play it. I'm a huge fan of hidden-object games, so the recent installment to the Dream Chronicles franchise was a must-have. I will admit that The Book of Air is the first Dream Chronicles game I've ever played, so I was going into it with fresh eyes.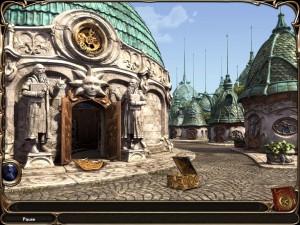 Upon launching the game, I was immediately thrust into a gorgeous cinematic filled with vibrant colors and beautiful music. Once that finished, I was presented with the menu and it was very easy to navigate. Since I was playing the Exclusive Collectors Edition my menu featured options to take me to additional content as well as a bonus chapter, but I will touch on that in a bit.
I selected to start a new game, and after naming my save file, I then got to select which difficulty level I wanted. Having to choose between casual or challenge, I opted for casual. In challenge mode, the puzzles are more difficult, and you can't skip though them. If you are new to hidden-object games, or working through puzzles isn't a strength of yours, I highly suggest casual mode because even then, there are puzzles I skipped through.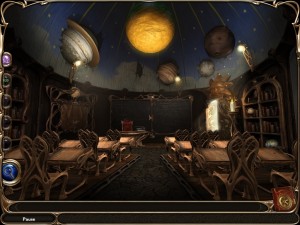 After I had my selections all worked out, the game began. I was treated to another intro cinematc, which is narrated by a young girl named Lyra, who is the daughter of Fay and Fidget from the previous Dream Chronicles Trilogy. On the day before her 18th birthday, she was celebrating with friends and loved ones, when her grandfather, Tangle, gave her a present he called 'an amazing gift'. Once Lyra opened it, she heard a strange voice, and then everybody vanished. There she was, all alone in her town named Wish, and that's when my journey began.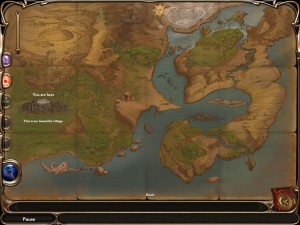 The first 'level' was in front of the local school. There I learned about my Dream Journal, which stores all of the notes from Tangle you come across in your travels, along with details about each puzzle you're working on. I then learned about the Dream Jewels, and how by connecting enough Dream Pieces, I can unlock their powers. There are five total Dream Jewels in all: Decipher which translates 'fairy text', Reveal which is pretty self explanatory, Transmute which turns golden objects back into their original wooden state, Brilliance which lights up dark rooms or caves, and Thunder which causes a storm and rain to fall. The Dream Pieces look like small shards of glass, or crystal, and sometimes they can be difficult to find, but throughout the entire game there are 180. I managed to find over 160, but in order to unlock every Dream Jewel, you have to find 150 of them.
Outside the school, I completed the puzzles necessary to get inside the classroom, and once I was inside I had even more puzzles to do. In The Book of Air, there are a variety of puzzle styles. Some are simple like collecting pieces of an object and then putting it back together. Others are more difficult like assembling cogs inside a clock perfectly so it can run. There were some puzzles I really enjoyed though. Like where you opened a book and on the right side was a paragraph with some text missing and you had to unscramble the words on the left side to to complete the puzzle and get a clue. Then there were actual puzzles where you are shown an image and then it breaks off into squares and you have to put it back together again. I love doing traditional puzzles like that, so I semi-squealed with delight when I saw them.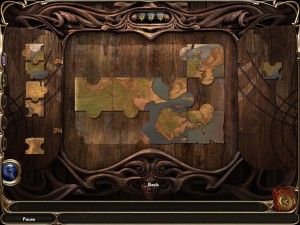 Once I was finished with the school, obtained the 'world map', and discovered the airship Lyra's father was hiding, I was off to find a man known as the Clockmaker, since he was the only one who could help me. By now, and through the notes provided by Tangle, you know that Lyra is stuck in a different dimension. By meeting with the Clockmaker, who reminded me a little of the Wizard of Oz, he tells you to find three keys that will unlock his Time Synchronization Machine and bring you home.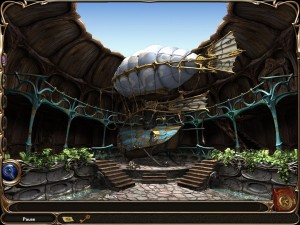 The first place you go to is Treehouse Village. By now you should have the Transmute Dream Jewel unlocked, and here is where you get to use it. The four trees on your screen look like they've had a nasty run in with King Midas. Once you restore the trees, you complete some puzzles, obtain the first key, and move on.
Wind Music Island, your second destination, frustrated me to no end. I suggest that when doing the main puzzle to unlock the key that you have pen and paper handy, because you'll need them. Here, you have to make the island come alive with music, and to do so is rather intricate. Even though I got a little miffed at this part, I'm actually glad that I was given something challenging.
The final key location is named Water Collector. By using your Thunder Dream Jewel, you fill the pool with water, use the key you find to get inside a hut, and complete some puzzles in there to get the last key. That puzzle inside the hut is one of the ones I skipped. It had to do with plank pieces, runes, a scale, and heavy objects like a chalice. Maybe my brain was puzzled-out at that point, but I'm so glad there was an option to skip it.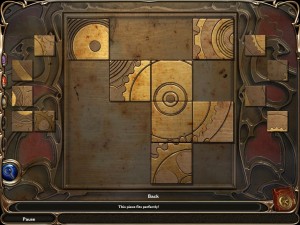 When you return to the Clockmaker with all three keys, you unlock the doors and fix the machine. Here is where you are given three ridiculously difficult puzzles, and it's all with clock gears. Yes, I skipped through all three of them, but I really tried and put in a decent amount of time trying to figure it out. With Lyra on her way back to Wish, you quickly discover that something is wrong, and that sets things up for the next installment: The Book of Water. Going into this game, I knew it was a trilogy, so I wasn't surprised with how things ended the way they did.
Now, let me get into graphics, gameplay, and sound. I have no complaints. Not one. Graphically is was lush, colorful, detailed, and simply gorgeous. The gameplay was easy. No keyboard involved, all mouse, and really delightful. Perfect for the style of game. The soundtrack was amazing, melodious, and had this nice fantasy RPG feel to it.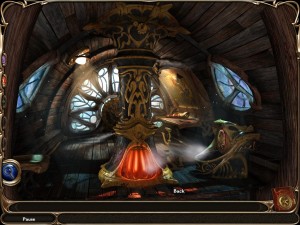 Currently PlayFirst is only offering the Exclusive Collectors Edition for $19.99, but you get unlimted play, exclusive content like a strategy guide/walkthrough, a screensaver you can download that is a collection of production art from the game, six wallpapers to choose from (Airship, Flying Over Wish, Tower of Dreams, Wind Music Island, Taking Flight, Tower Above the Clouds), and lovely MP3 audio which includes the main theme, The Book of Air opening tune, and more. The Bonus Chapter you get is rather nice too. It gives you more playtime, and more production art, along with many puzzles to complete. You are also given a peek into The Book of Water which, sadly, won't be out until 2011.
Do I think this game is worth $19.99? Maybe, but it depends on many different factors. If you are a person who likes Collectors Editions, who likes bonus features like screensavers, wallpapers, game soundtracks, and bonus levels, then yes. It's worth it. If you don't care about that and want to just play the game, then I suggest picking up the $6.99 version that just released today. You will still get the same levels, abilities, and unlimited gameplay, but none of the bonus features.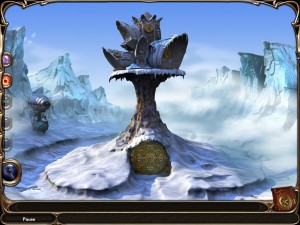 My only real complaint is that I wanted the game to be longer, because I enjoyed playing it that much, but with games of this genre it's difficult. PlayFirst did a good job with giving us a wide variety of puzzles and objects, and making sure it never felt repetitive. Had they gone with a longer game, maybe they would've had that problem, so the length of the game could very well be a blessing in disguise.
Overall, on a scale of 1 to 10, I'd give Dream Chronicles: The Book of Air an 8.5. If you're a fan of puzzle/hidden-object games, or if you're just getting into games of this nature, I highly recommend giving it a go because it really is delightful.
- Me