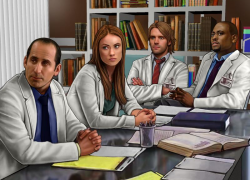 You may be familiar with Dr. Gregory House and his team at Princeton-Plainsboro Hospital. You may have even felt the emotional tension as Thirteen (Olivia Wilde) and Foreman's (Omar Epps) relationship slowly went downhill. But, I bet you've never seen House and his team quite like this!
House, M.D. will have you attempt to discover the diagnosis of 5 different patients in this exciting new game by Legacy Interactive. Acting as House and his gang, you will perform lab tests, ask probing questions, and even perform surgery!
The full game will also feature mini-games. One such mini-game will take House's infamous routine of brainstorming to a whole new level! You will literally be tossing the ideas around as you race to a diagnosis. It's a rather simple game - using House's brain as your background, you have about 10 little lightbulbs, and it's your job to bounce a ball off the paddle at the bottom of the screen. Hitting the lightbulb once turns it on but dimmed. A second hit will light it up completely, and a third will get rid of it! Once all ten or so are gone, you will have completed the mini-game and come to a diagnosis. But watch out - taking too long, will produce more ideas and more lightbulbs for you to eliminate!
Look for House, M.D. for your PC and Nintendo DS on September 13! In the meantime, visit legacygames.com for the demo! Enjoy!